About Me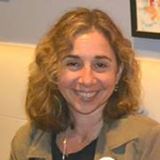 Michelle Solomon NYS LMT
Michelle opened Massage Therapeutics in 1990. She began her massage career at the Florida School of Massage in Gainseville.
She is trained in a variety of massage modalities including Swedish, Deep Tissue, Trigger Point, Pre-natal, Sports, Shiatsu, and Reflexology.
Michelle has also received certifications in Medical Massage, Tui-Na (Chinese Massage Therapy) and participated in workshops including Craniosacral and Myofascial Therapy, Maya Abdominal Massage and is a certified Doula providing massage and labor support for pregnant women.
Michelle is a member of the American Massage Therapy Association(AMTA) and the National Association of Professional Women.
Since 1990 she has been a Kripalu certified yoga teacher and teaches to children and adults.
In addition, Michelle is an environmental activist and the organizer of RocklandYES a non-profit dedicated to bringing environmental education to the youth of Rockland County.
Michelle has many interests including herbology, hiking, vegetarian cooking, gardening, and photography.
She is the mother of two amazing children.